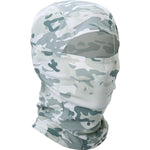 Multifunction Camouflage Balaclava
€9,99

Normal price
€9,99

Reduced price

€9,99

Comparative price
Unit price
Please select an available variant
When you need an extra piece of camouflage for your hunting or shooting kit, or even for a simple excursion into the woods, the Multi-Purpose Camouflage Balaclava is the ideal accessory. It can be worn as a normal balaclava or it can be used as a bandana, scarf, neck gaiter or even a neck gaiter. It's made from lightweight, breathable polyester fabric, and features an elastic sweatband on top for a snug fit. The balaclava's compact dimensions make it easy to carry in your pocket or backpack, and it comes in a variety of camouflage patterns to blend seamlessly into any environment.
Multifunction Camouflage Balaclava: use and advantages
This is a balaclava made from lightweight, breathable fabric with a water-repellent finish. It has an extendable headband and a removable soft plastic visor. It also has openings for the eyes, nose and mouth. This balaclava is ideal for hunting, paintball, airsoft, gardening and general outdoor activities.
Multifunction Camouflage Balaclava