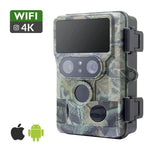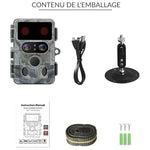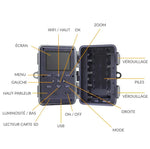 €249,90

Normal price
Reduced price

€249,90

Comparative price
Unit price
Please select an available variant
The TR-92S hunting camera is a 4K ultra HD night vision camera. It has a resolution of 3840 x 2160 pixels and high sensitivity for clear and sharp images, even in low light conditions. The TR-92S camera is equipped with a 4x digital zoom, an 8-megapixel CMOS sensor and a 120° wide-angle lens. It records videos on a microSD card (not included) up to 128GB. Videos can be viewed on the built-in LCD screen or on a TV or computer via the HDMI interface
The TR-92S 4K hunting camera is a high-resolution surveillance camera designed to provide clear and precise images. It is equipped with a highly sensitive CMOS sensor and a 90-degree wide-angle lens, which helps capture sharp images even in low light conditions. The TR-92S camera also features 4x digital zoom, loop recording, and a built-in microSD card for easy use.
4K hunting camera TR-92S
The price of the 4K TR-92S hunting camera is 749.99 euros. This camera is equipped with a 4K UHD CMOS sensor and a 120° wide-angle lens. It offers a resolution of up to 4K/30fps and support for H.265 format. The 4K TR-92S hunting camera also features infrared night vision and a sensitive PIR sensor.
The TR-92S 4K trail camera has been tested by many hunters and received very high ratings. Hunters say it is extremely reliable and takes very good quality photos and videos. They highly recommend it to anyone looking for a reliable and efficient camera for their hunting.
4K Trail Camera TR-92S
The TR-92S 4K trail camera is a premium camera that offers excellent image quality and reliable operation. It is easy to use and captures clear, precise images, making it a great tool for hunters.