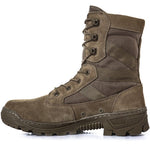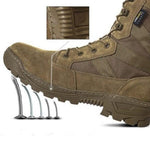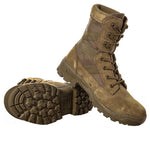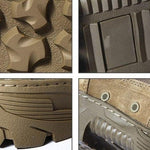 Men's Survival Hiking Shoe - End of the world
€196,99

Normal price
Reduced price

€196,99

Comparative price
Unit price
Please select an available variant
The men's survival hiking shoe - end of the world is a versatile and robust hiking shoe designed for men. It features a waterproof leather upper and removable insole, making it comfortable to wear while providing excellent protection against the elements. Hiking shoes are generally designed to provide good support and superior traction on uneven surfaces, making them ideal for hiking, trekking, or even trail running. However, they can also be used for other outdoor activities like cycling or canoeing.
Men's Survival Hiking Shoe - End of the world
If you're looking for a men's hiking shoe that's both comfortable and durable, then this End of the World Survival Shoe is for you! It is made from high-quality leather and sturdy materials, making it ideal for long walks in nature. In addition, it has a non-slip sole that will allow you to maintain your traction even on the slipperiest surfaces.
Men's Survival Hiking Shoe - End of the world
A men's hiking shoe is a shoe specially designed for men who enjoy hiking. These shoes are generally lightweight and comfortable, making them ideal for long days of walking. Additionally, they provide good grip and support, which is essential when you are climbing or descending a steep slope.

Men's Survival Hiking Shoe - End of the world