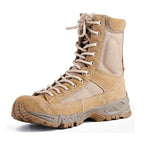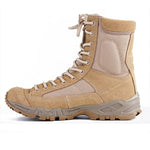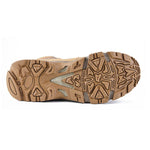 €89,90

Normal price
Reduced price

€89,90

Comparative price
Unit price
Please select an available variant
Sand is a hostile environment for military footwear. Heat and sand can damage shoes and make them uncomfortable to wear. Military shoes must therefore be resistant to heat and sand.
Sand Military Shoe: Use and Advantages
There is something very attractive about sand military shoes. They have an elegant and sophisticated look that is perfect for formal occasions. These shoes are also extremely comfortable and durable, making them ideal for everyday use. Additionally, they are easy to maintain and require very little maintenance.
Sand Military Shoe
Sand military shoe, shoe model made from high quality soft leather with a matte finish. The shoe features a removable padded insole, padded collar and 8 metal eyelet lacing. The shoe is fully lined in fabric for ultimate comfort and features a non-slip rubber outsole.
Conclusion: Military shoes are perfect for sand
If you are looking to buy sand military shoes, there are several places you can find them. You can find them online, at military surplus stores, or even at some shoe retailers. When purchasing sand military shoes, be sure to check their quality and price before finalizing your purchase.