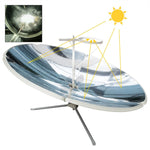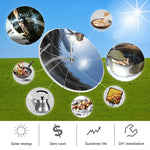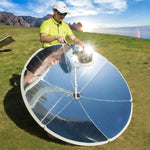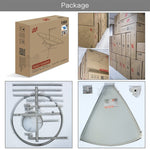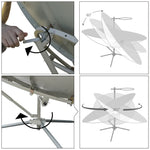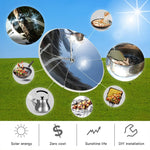 €299,99

Normal price
Reduced price

€299,99

Comparative price
Unit price
Please select an available variant
Choose this Natural Solar Oven to cook your food!
No matter where you are, in the forest, by the lake, on top of a mountain, you can use this Natural Solar Oven, as long as the weather is nice! Don't hesitate to put it among your equipment during your next campsite!
What a great way to cook your food while enjoying the outdoors! The natural solar oven is perfect for those who love camping and being one with nature. With a diameter of 150 cm, this round solar oven is just the right size. It is equipped with 6 reflectors which make it powerful enough to reach temperatures of up to 1000W. Made with high quality carbon steel and aluminized vacuum film, this solar oven is tough and durable. Additionally, it is CE, FCC and RoHS certified. How can you not love this oven? It's even delivered for free! Don't miss out on this amazing product!
Specifications of the Natural Solar Oven
Specification: Diameter 150 CM
Shape: Round
Reflector Qty: 6PCS
Power: 1800W
Maximum temperature: 1000W
Material: High quality carbon steel, magnesia and vacuum aluminized film.
Water cooking time: 37 minutes/3KGS of water
Certification: CE, FCC, RoHS
Free delivery