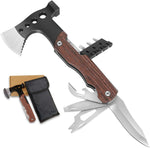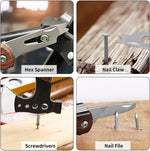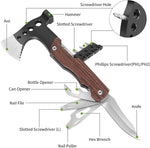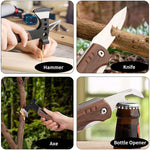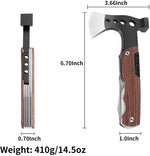 Survival Multifunction Ax
€39,99

Normal price
€19,99

Reduced price

€39,99

Comparative price
Unit price
Please select an available variant
Discover this Multifunction Survival Axe, an essential tool for you!
This Survival Multifunction Ax allows you to have everything you need in one tool. No need to buy separate tools anymore. These multitools can often be worn on a belt or clipped to the outside of your bag. When you need them, just pop them out.
Are you looking for a versatile and reliable survival axe? Look no further than the Multifunctional Survival Axe! This one-of-a-kind tool is perfect for all camping and outdoor enthusiasts. It comes with 9 different functions, all housed in a sleek and compact design. Whether you need to open a bottle or tighten a screw, this survival ax has you covered. Best of all, it can be easily worn on a belt or in a bag, allowing you to always have it on hand when you need it most. Don't be caught off guard in the wilderness - don't forget to take the multifunctional survival ax on your next adventure!
Survival Multi-Axe Specifications
Survival ax for camping and outdoors
Size: S
Net weight: 406g
Multi-tool kit 9: Phillips screwdriver
Multi-tool kit 8: Can openers
Multi-tool kit 7: Bottle opener
Multi-tool kit 6: Nail
Multi-tool kit 5: Adjustable wrench
Multi-tool kit 4: Nail puller
Multi-tool kit 3: Knife
Multi-tool kit 2: Hammer
Multi-tool kit 10: Slotted screwdriver
Multi-tool kit 1: Ax
Material: 2Cr13, stainless steel
Closed size: 6.7 x 3.6 x 1.0 inches
Number of functions: 12 in 1 multi function ax with knife hammer opener screwdriver
Free delivery

Survival Multifunction Ax