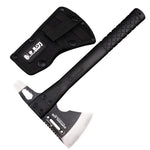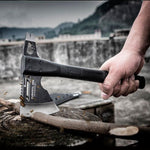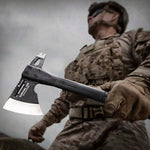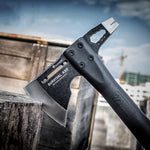 €79,99

Normal price
€79,99

Reduced price

€79,99

Comparative price
Unit price
Please select an available variant
The HX Tactical Survival Ax is a survivalism and outdoorsmanship tool designed for adventurers and explorers. The ax is made of high quality stainless steel, making it durable and corrosion resistant. The blade is sharpened along its entire length, which allows it to be used as a standard ax, but also as a survival knife. The ergonomic rubber handle provides a comfortable and secure grip, while the reinforced fiberglass handle prevents the ax from breaking when used with force. The HX also comes equipped with a water-resistant nylon case, making it easy to carry and protected from the elements.
how to chop with an HX Tactical Survival Ax
The HX Tactical Survival Ax is a premium quality ax designed for use in the most difficult situations. Made with a hardened stainless steel blade and reinforced fiberglass handle, this ax is extremely durable and can easily pass through trees, branches and bushes. The HX Tactical Survival Ax also features a hardened steel tip that allows you to dig deep holes and penetrate hard ground. Additionally, the ergonomic rubber handle ensures a comfortable and secure grip, even when wearing gloves.