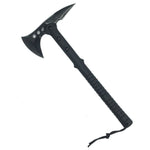 €49,99

Normal price
€49,99

Reduced price

€49,99

Comparative price
Unit price
Please select an available variant
The survival tactical ax is an essential multifunctional tool for any outdoor enthusiast. Whether you're looking for a way to protect yourself or just a tool to make everyday tasks easier, this ax is perfect. With a hardened steel blade and a non-slip rubber handle, this ax is designed to provide a firm grip and excellent maneuverability. Plus, its compact design makes it easy to transport, making it ideal for all your outdoor adventures.
Survival tactical axe: how to use it for your defense
The tactical ax is a very practical tool for survival situations. It can be used to split wood, open crates or chests, and even as a self-defense weapon. It is a very versatile and essential tool for anyone preparing to face a survival situation.