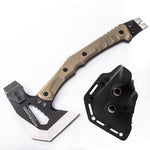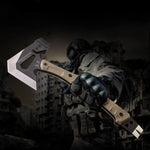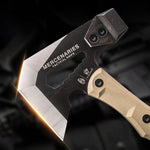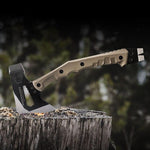 €122,90

Normal price
€129,90

Reduced price

€122,90

Comparative price
Unit price
Please select an available variant
When living conditions get tough,
having a survival ax can make all the difference
. The HX Survival Tactical Ax is designed to be a
versatile weapon and tool in the most extreme situations
. With a 6-inch hardened
stainless
steel
blade and reinforced nylon handle, this ax is capable of splitting wood, cutting branches and even breaking ice. Additionally, the HX is equipped with a hardened steel tip that allows you to dig holes or penetrate materials. In case of danger,
the ax can also serve as an effective means of defense
. Compact and lightweight, the HX is easy to carry and use, making it the ideal tool for anyone looking to be prepared for any situation.
>Tactical survival ax HX: use and maintenance
The HX ax is a multi-function survival tool. It can be used as a lumberjack ax and even as a hammer . The ax is made of high quality stainless steel and has a sharp blade. The wooden handle is durable and comfortable to use. The ax also comes with a nylon sheath for protection and transportation.