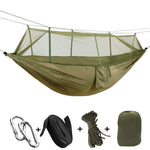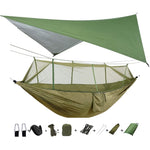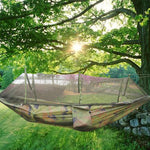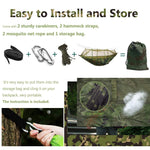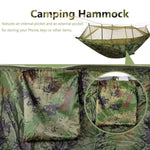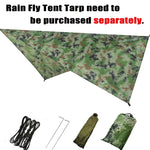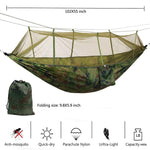 Anti-Mosquito Survival Hammock
€44,99

Normal price
Reduced price

€44,99

Comparative price
Unit price
Please select an available variant
Try this Anti-Mosquito Survival Hammock to protect yourself from mosquitoes.
This Military Camouflage Hammock is camping equipment for sleeping that looks like a bed! It will keep away rain and mosquitoes.
The perfect hammock for anyone who wants to enjoy the outdoors without worrying about mosquitoes. This military-grade hammock is made from durable, waterproof material that will keep you dry and comfortable even in the heaviest rain. It is also treated with a mosquito repellent that will keep those nasty critters away all night long. Whether you're camping in the woods or relaxing in your backyard, this hammock is the perfect way to enjoy all the benefits of nature without the drawbacks. Order yours today and start enjoying the great outdoors worry-free!
Specification of the Anti-Mosquito Survival Hammock

WATERPROOFING INDEX: 1000 - 1500 mm
CATEGORY: Double tent
FREE DELIVERY
Also take advantage of Military Camouflage Hammock - Find our wide choice of quick-fix Survival Hammocks

Anti-Mosquito Survival Hammock