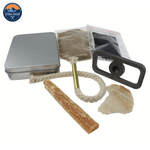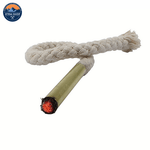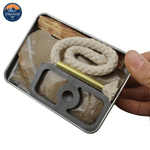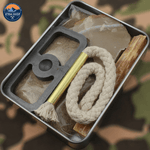 Complete Fire Starter Kit
€25,99

Normal price
Reduced price

€25,99

Comparative price
Unit price
Please select an available variant
Use this Complete Fire Starter Kit to save yourself from discomfort.
Depending on the environment you are trapped in, hot or dry, freezing or humid, etc. Building a campfire with this Complete Fire Starter Kit can make a difference and save you from discomfort, hypothermia, frostbite or even death.

When it comes to being prepared, there is no room for compromise. That's why you need the Complete Fire Starter Kit. With this essential six-piece kit, starting a fire in any environment will be child's play - so you can focus on what matters. Whether you're stranded in the middle of nowhere or enjoying a weekend camping trip, this kit has everything you need to start a bright fire quickly and easily
Order your complete fire starting kit today and be prepared for anything!
Specification of the Complete Fire Starter Kit
TYPE: Pocket, Multi-tool
FEATURE: 6 pieces
FREE DELIVERY
Also enjoy this 100% natural Solar Barbecue! - Find our wide selection of survival fire starter kits

Complete Fire Starter Kit