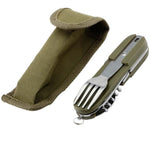 €11,99

Normal price
€1,35

Reduced price

€11,99

Comparative price
Unit price
Please select an available variant
Discover this Survival Covered Kit, very useful when you go hiking or trekking!
Whether you are a fan of survivalism or not, you will love this covered survival kit! With just one tool, which is easily portable, you can have with you what you need to eat!

This covered survival kit is perfect for anyone who loves spending time outdoors! Whether you're a fan of survivalism or not, this handy little tool is essential for anyone who enjoys hiking or trekking. With everything you need for eating in one place, this survival cutlery kit is perfect for those who like to be prepared for anything! Made from high quality stainless steel, this kit is built to last. Plus, delivery is free!
Survival Covered Kit Specifications
Type: Knife/Fork/Spoon
Style: Outdoor
Material: Stainless steel
Free delivery