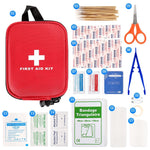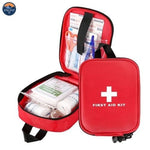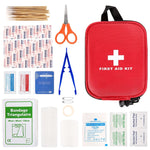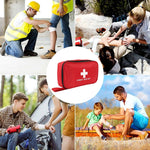 €29,99

Normal price
Reduced price

€29,99

Comparative price
Unit price
Please select an available variant
You need this 100 in 1 First Aid Kit if you go to the mountains or the forest
This 100 in 1 first aid kit is what you need if you are going to the high mountains for outdoor activities! It contains everything you need to have on hand in case something goes wrong.
When you're heading out into the great outdoors, the last thing you want to worry about is whether you have everything you need in case of an emergency. With this 100 in 1 first aid kit, you can be sure you're prepared for anything. Whether it's cuts, scrapes or more serious injuries, this kit has everything you need to get out of any situation.

This first aid kit comes with 100 different items, so you know you'll be covered no matter what. It includes basic items like bandages and gauze, as well as more advanced items like a resuscitation mask and emergency whistle. And because it's all packaged in a handy carrying case, it's easy to take with you anywhere.

Don't let a little thing like lack of preparation ruin your next outing. Be safe and prepared with this 100 in 1 first aid kit.
Specifications of the 100 in 1 First Aid Kit
First aid kit
Free delivery