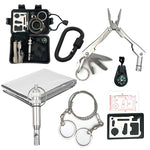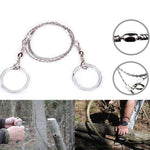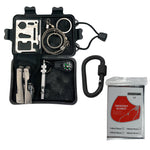 €18,99

Normal price
€2,76

Reduced price

€18,99

Comparative price
Unit price
Please select an available variant
Try this Beginner Survival Kit, ideal for all outdoor activities.
To go on an activity, you must carry equipment that will allow you to survive during your stay . With this Beginner Survival Kit, you must be able to survive in very hostile conditions 🌋 .
It is essential to have the right equipment for any outdoor activity. ✅ The Beginner Survival Kit contains everything you need to survive in extremely hostile conditions. This complete kit includes a knife, fire starter, emergency whistle and much more . With this kit, you'll be ready for whatever nature throws at you.
Beginner Survival Kit Specification
Items included in the kit:
1 X Stainless Steel Multi-Tool Ruler

1 X Carabiner

1 x Compass

1

1 X Emergency Whistle

1 X Multifunctional pliers

1 X Aluminum Emergency Blanket

1 x toolbox
🚚 Free delivery within 14 days
Also opt for our Hiking Pocket Survival Kit .
Treat yourself by browsing our survival kit collection .