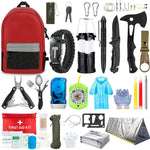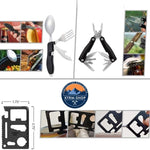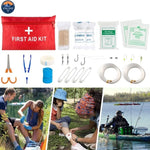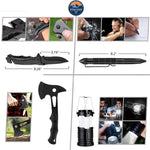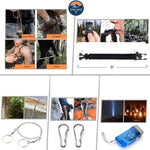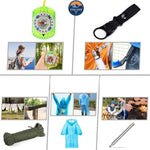 End of the World Survival Kit
€149,99

Normal price
Reduced price

€149,99

Comparative price
Unit price
Please select an available variant
There are 2 copies remaining in inventory
Take advantage of this End of the World Survival Kit to face and overcome nature!
This Doomsday Survival Kit contains everything you need to survive in the wilderness ! ⛑️ With this kit, you will be able to meet all the challenges that come your way. It includes all the essentials, such as a knife, compass and first aid kit, plus a few extras that will come in handy, like a raincoat. So don't wait until the end of the world to prepare - get your survival kit today 🏃!
End of the World Survival Kit Specification
14 in 1 multifunction saber card
Emergency shelter
2pcs Glow Stick
Spoon Fork Knife
Survival knife
Survival bracelets
Hand Pressure Flashlight
Fishing tools
Water bottle clip
Emergency Insect Blanket
Compass
Camping lamp 2 Modes
Self-defense tactical pen
Wire saw
Bottle clip
2-piece carabiner
Parachute cord 9 threads (83cm)
Multifunctional folding pliers
Raincoat
Pocket bellows
Tactical backpack
Gloves
Survival ax (30 cm)
🚚 Free delivery in France!
Also discover our Survival and first aid kit .
Face any situation with our collection of survival kits .

End of the World Survival Kit