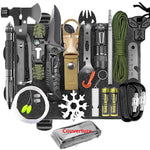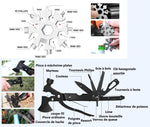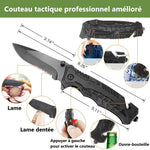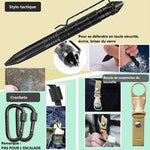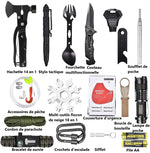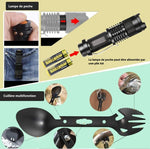 Very High Mountain Survival Kit
€84,99

Normal price
Reduced price

€84,99

Comparative price
Unit price
Please select an available variant
Discover this Very High Mountain Survival Kit for your next trip
to

the mountains.

Do you like to explore mountainous terrain 🗻? Don't forget to bring a suitable first aid kit to meet all the needs and possible dangers you may encounter on the road 🛣️. This Very High Mountain Survival Kit is what you need !
Specification of the Very High Mountain Survival Kit
Type: First aid kits
Items included in the kit:
Parachute cord
Multifunctional survival bracelets
Snowflake 18 in 1 multi tool
Emergency Insect Blanket
Multifunction survival knife
2 AA batteries
SOS flashlight (3 functions)
Water bottle clip
Fishing line accessories
Blown Fire Tube
14 in 1 hatchet (hammer and axe)
Survival whistle
Multi-use spoon fork
Climbing hooks
Portable Tactical Box
Self-defense tactical pen
🚚 Free delivery
Opt for this Earthquake Survival Kit .
Browse our survival kit collection and find the gear you still need to purchase.

Very High Mountain Survival Kit