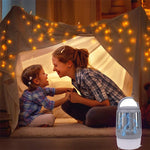 Anti-Mosquito Survival Light
€23,99

Normal price
€13,74

Reduced price

€23,99

Comparative price
Unit price
Please select an available variant
Choose this very effective Anti-Mosquito Survival Light
While lights are known to attract mosquitoes, this model is very special because it kills them. If you want to protect yourself against mosquitoes during your outdoor outing, opt for the Anti-Mosquito Survival Light.
Are you tired of being bitten by mosquitoes when enjoying the great outdoors? Want to be able to go out without having to worry about putting on mosquito spray? Well, now there is a solution! The survival mosquito repellent lamp will help you avoid being bitten all summer long
This incredible lamp uses UV light to attract mosquitoes and kill them when they approach. It's rechargeable, so you don't have to worry about replacing batteries, and it has a lifespan of 50,000 hours. Plus, it's safe to use around children and pets
Don't let mosquitoes spoil your summer fun! Order your mosquito repellent survival lamp today.
Specifications of the Anti-Mosquito Survival Light
Voltage: 5V
Power Source: Rechargeable Battery
Power: 5W
Material: ABS
Lifespan: 50,000 hours
Applicable area: 15-25 square meters
Free delivery
If you are looking for a technical hiking lamp, you can discover our 3 in 1 hiking lamp - If you have not found your favorite go directly to our general collection of survivalist lamps
Anti-Mosquito Survival Light