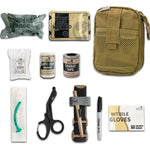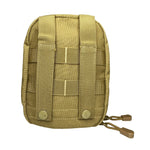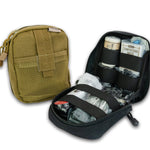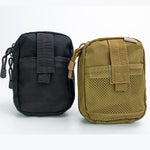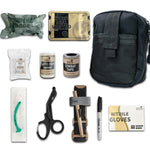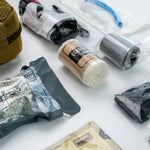 €49,99

Normal price
Reduced price

€49,99

Comparative price
Unit price
Please select an available variant
Complete your equipment with this Tactical First Aid Pack
Be an informed survivalist by adopting this Tactical First Aid Pack! It is also suitable for any family or person who loves sports and outdoor activities! Prevention is better than cure.
No one ever expects to find themselves in an emergency situation, but it's always best to be prepared. The Tactical First Aid Kit is the perfect way to ensure you're always prepared for the worst. This comprehensive kit contains everything you need to effectively treat a wide variety of injuries, all in a convenient, easy-to-carry bag.

The tactical first aid kit is perfect for anyone who enjoys spending time outdoors, whether hiking, camping, hunting or fishing. It is also ideal for families whose children are active and always on the move. And because it's so light and compact, it's easy to take with you wherever you go.

Inside the Tactical First Aid Kit you'll find everything you need to treat minor cuts and scrapes, severe bleeding, burns, and more. There is even a special section for treating snake bites. The comprehensive instructions will guide you step by step so you have confidence in your ability to help in any situation.

Don't wait until it's too late to prepare. Order your tactical first aid kit today!
Tactical First Aid Pack Specifications
Size: 19*12.5*7cm
Weight: 500g
Material: nylon
Item Type: Earthquake Escape Kits
Color: army green and black
People concerned: Outdoors, family, sport
Free delivery